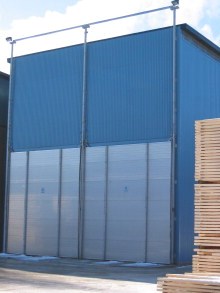 Timber Drying
Drying is the most important element in processing sawn timber into finished wooden products. Alfsen og Gunderson has manufactured Norway's best timber dryers for almost 50 years. The industry demands ever higher drying temperature and increased drying speed. Our kilns allow sawmills to deliver timber free from tensile stresses and cracks, with 8-10% final moisture content.
TAILOR-MADE EQUIPMENT TO SUIT ALL NEEDS A diffusion tight inner construction in stainless steel withstands the aggressive drying climate: this, together with tried and tested technical equipment, has made AG's timber dryers the market leaders in Norway today. We manufacture kilns for batch and progressive drying to customers' needs and specifications.
BATCH DRYING Batch dryers produce the best quality timber, particularly large dimension timbers and wood that needs drying down to 8-10% final moisture content. An advanced, user-friendly system allows the operator full control of the drying process, with the timber exposed to optimal climatic conditions. The result is timber free of tensile stresses and cracks, with minimal moisture spread. Capacity per kiln is up to 8,000 m3/year.
PROGRESSIVE DRYING Progressive dryers offer a continuous drying process, with low energy consumption and an automatic feeder system permitting the dryer to operate unsupervised and without operators at weekends. Combined with minimum timber handling, this is an energysaving method with reduced drying costs. Our largest progressive dryers have a capacity of up to 40,000 m3/year.
FULL RANGE OF SERVICES – FROM ORDERING TO OPERATIONAL DRYING Working with selected partners, we deal with every aspect of timber drying, ranging from analysis to fully operational dryers. Our expertise in timber drying technology, construction and automation is the best guarantee of a good result and satisfied customers.